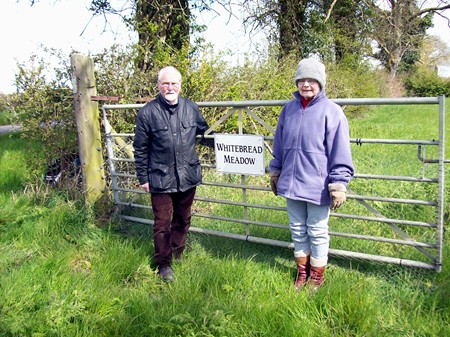 Royal picnic for an ancient meadow
A Bourne resident rented the historic White Bread Meadow for a picnic party to mark the Queen's 90th birthday in 2016.
Mrs Brenda Jones paid £340 at auction for a one-year lease of the ancient tract of land in Meadow Drove that is let out for grazing annually under the terms of an unusual bequest dating from the 18th century. The field of just over one acre is situated 1½ miles north of the town and ever since it was bequeathed by William Clay in 1742, the pasture has been auctioned annually during a 200-yard race between two schoolboys beside the Queen's Bridge at the end of Eastgate, an event that has become one of England's traditional country customs.
In 2016, the auction was held on Monday 25th April when the highest bidder was Mrs Jones who lives in Stephenson Way and is believed to be the only woman who has ever bid for the land during its 270-year history. She and her husband Jim, who are well known for their work with the church and community, decided to buy the meadow for a year and hold a "bring your own" picnic for the people of Bourne on the afternoon of Sunday 5th June to mark the Queen's birthday.
"I paid a little more than I expected", she said, "but we decided that it would be money well spent in bringing the people together to mark this special occasion for the sovereign and we are sure that this will be one of those events which will be talked about for many years."
Some fifty people turned up on the day which was warm and sunny and they enjoyed several hours of convivial company with music and entertainment supplied by the Bourne Borderers, the town's local folk dance group. The Queen also made an appearance in the shape of a plastic effigy which was on display throughout the afternoon's proceedings.
Mrs Jones is also chairman of Bourne Civic Society and husband Jim a committee member although the rental of the White Bread Meadow was a private arrangement and they used their own money to pay for it. Jim was awarded the MBE in 2009 for services to the community, mainly his work on restoring the wheel at Baldock's Mill in South Road which is maintained by the society as the town's Heritage Centre.
Mrs Jones said that renting the meadow had always been one of her ambitions ever since moving to Bourne from Liverpool over 40 years ago and added with a smile: "You might say that it has been one of the items on my bucket list."
After the picnic, the meadow was again used for its original purpose of grazing through an arrangement with a local sheep farmer.
PHOTO ALBUM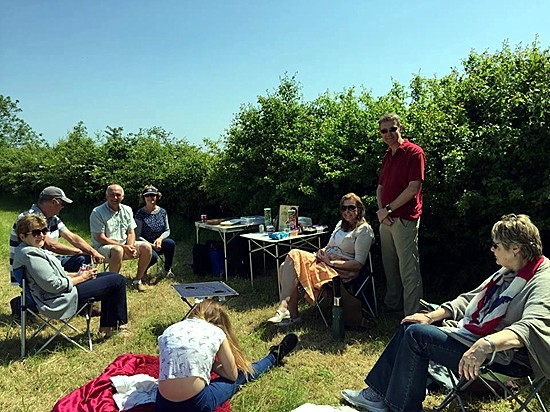 See also
The White Bread Meadow Mrs Brenda Jones
Go to: Main Index Villages Index